Before setting up your employees, you'll need to ensure that an account is active for your restaurant.
___
Employee Setup:
Navigate to Workforce > Employees
Click "Add Employee"
Fill in the necessary information

Minimum fields that must be met:

First and Last Name
Email address and/or cell phone number
Be sure the role field is set to Basic (meaning that they'll only have access to the screenings, not the website)
Assign location(s)
Click "Create Employee"

Repeat steps for employees

Create a "Host" employee account

This account will be used by any staff member responsible for greeting patrons as they arrive, and will ensure patrons have completed the screening. We recommend you look over the Roles page, to determine which permissions are relevant to the Host role.

Click "Add Employee"
Set the email to a common work email
Set the role field to Host
Click "Create Employee"

An email will be sent to this address with an invitation to create a password
Click "Accept Invitation" in the email
Create a password for the Host account
___
Daily Reminder Set Up
Go to Your Name > Settings > Screening Schedules > Add Schedule.
Select the days and time you'd like your users to get the notifications to screen.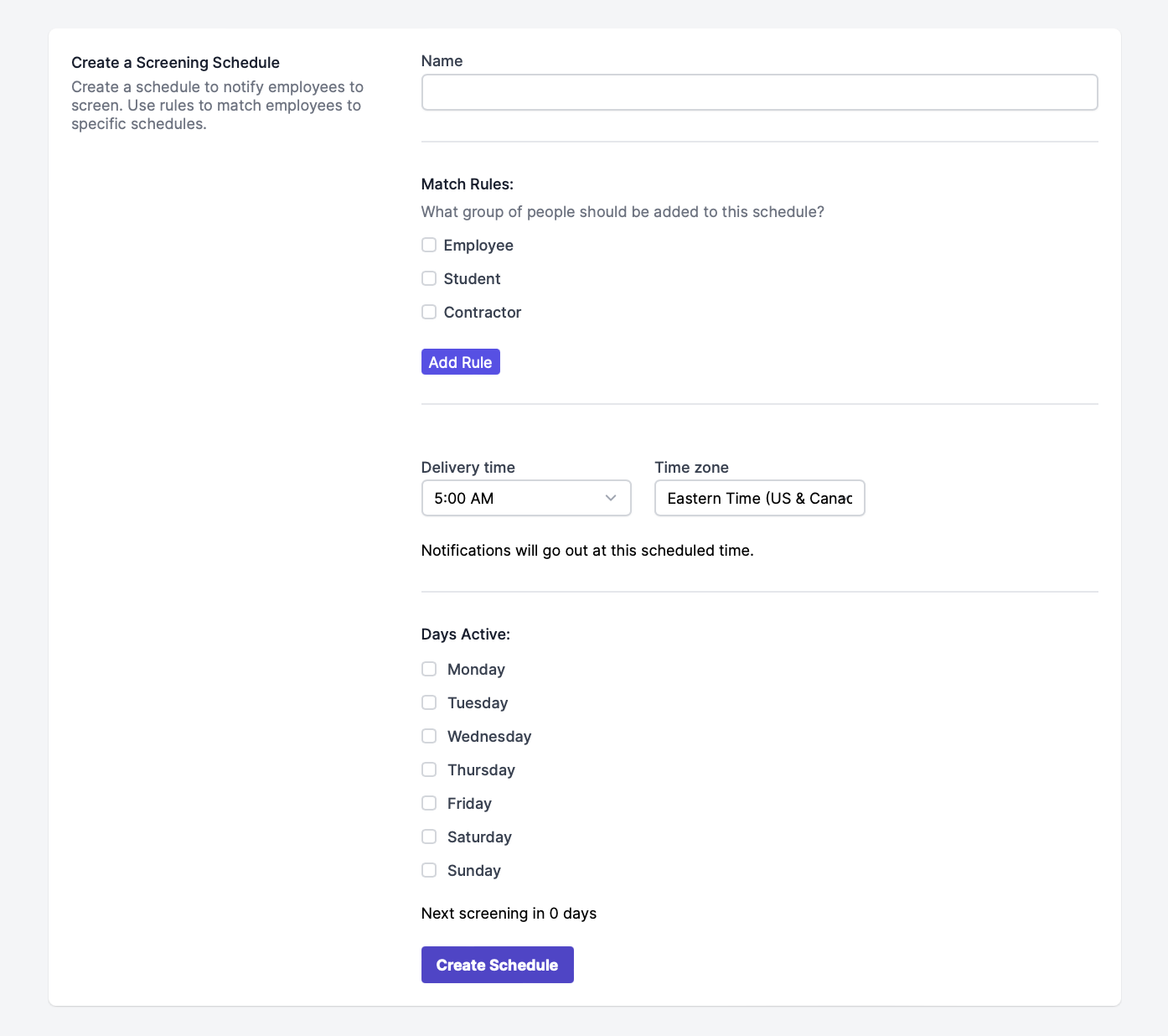 ___
Employee Screening Experience
At the days and time set up for your employees, your employees will receive a daily reminder to complete the screening. They will come as one of three options
The employee can answer the screening questions, and will have the opportunity to review their answers before submitting. For more on how to set up new questionnaires, see our Screening Questions guide.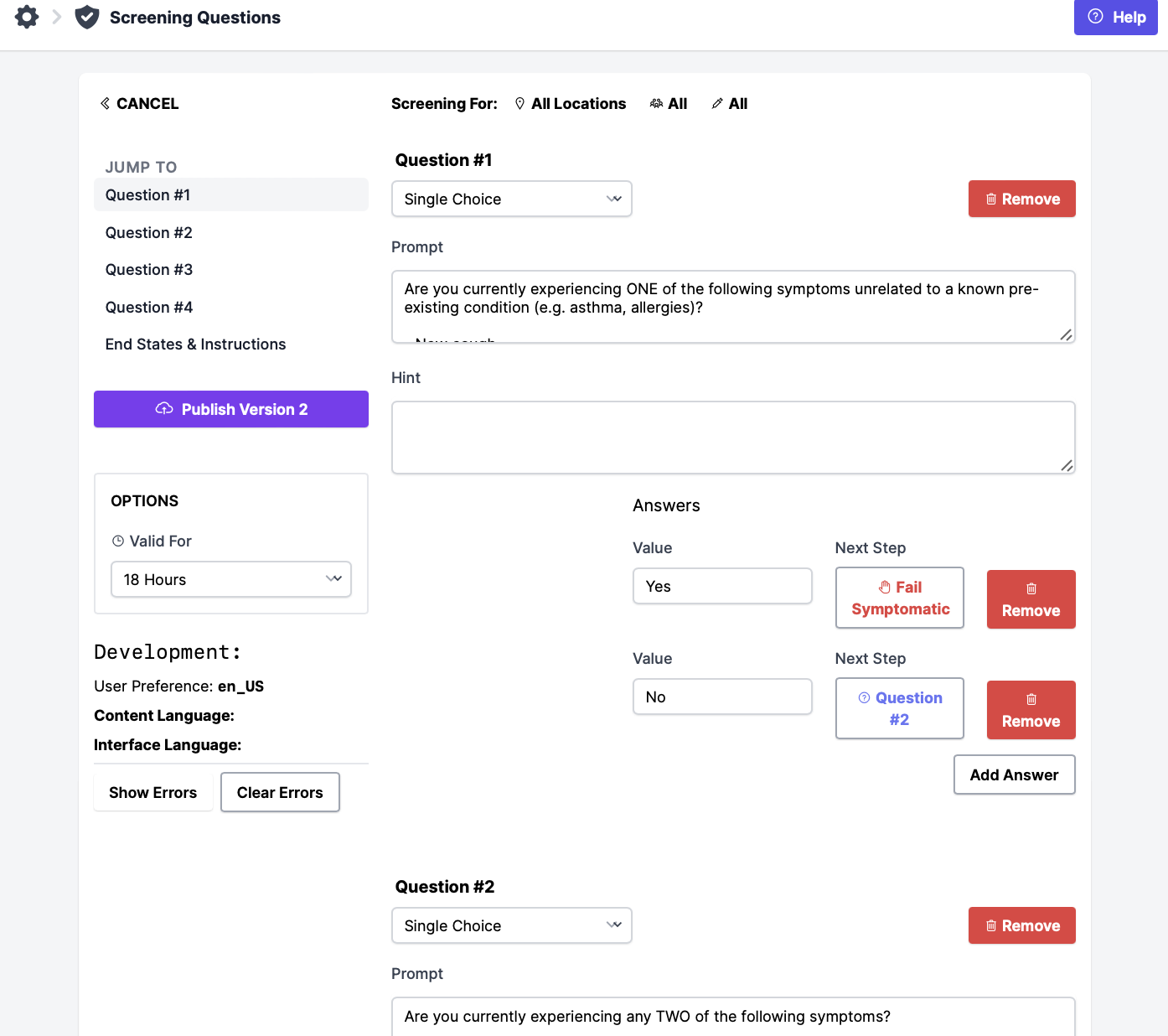 ___
Managing Employees
As employees complete their screenings, their results can be viewed via the Roll Call, Employee info, and Dashboard pages.
What happens when someone fails their screening?
___
Managing Patrons
Go to Your Name > Settings > Visitor Types

Edit/Create the visitor settings to best fit your needs

Go to On-Site > Visitor Management > Print a Sign, at the bottom of the page.
Select your visitor type and location
Print a sing using the recommended settings
Post the sign in an appropriate location
Repeat steps 2-6 for any visitor types and/or locations
For more information on visitors, see our Visitor Set-Up guide.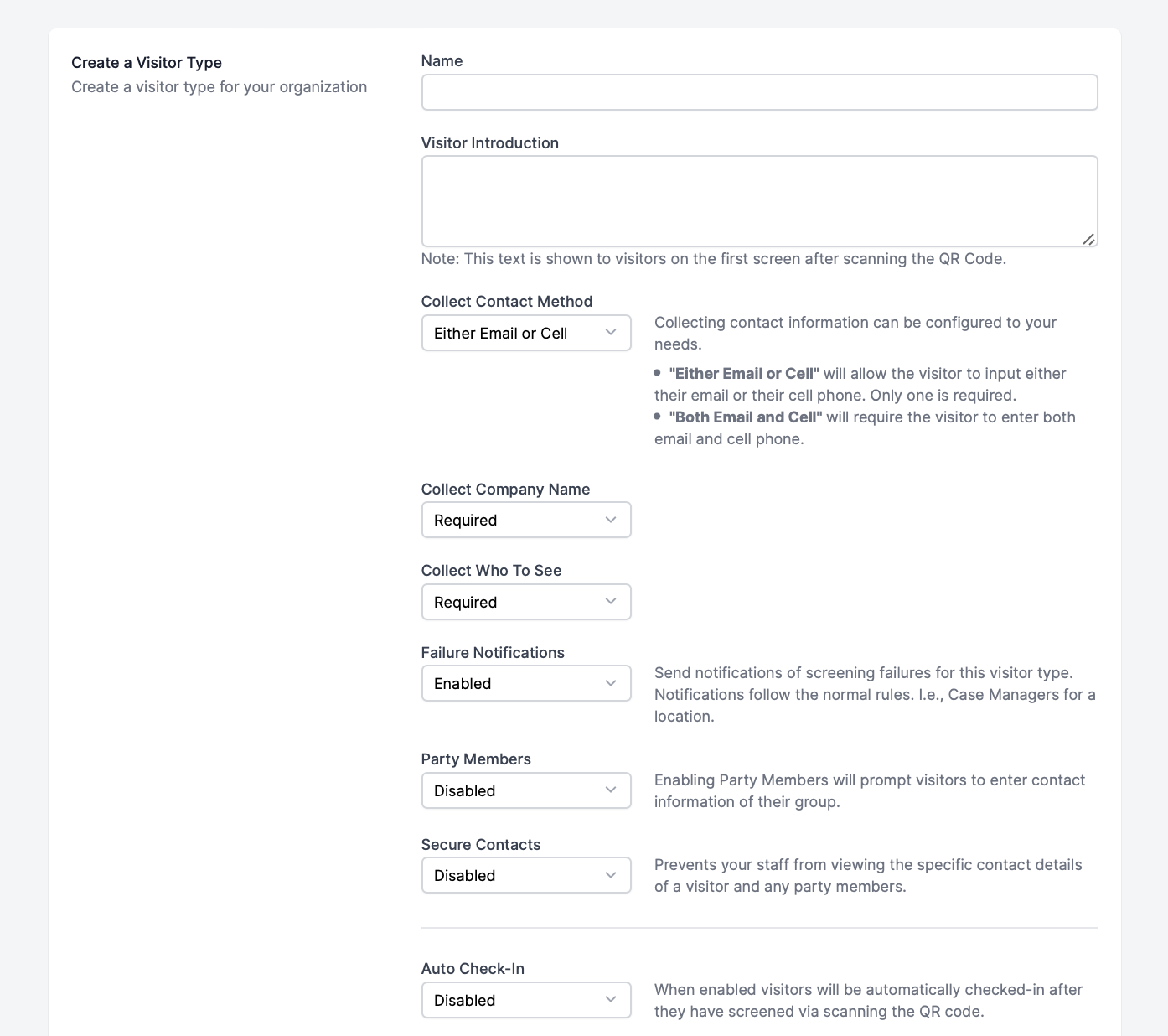 Checking In/Out and Waitlisting
Using the Host account mentioned above, log into app.cleartogo.co.
Then, go to Manage Visitors, and determine which of the two workflows accommodates your needs best:
Automatic Check-In

Waitlisting

Set "Auto Check-In" to enabled
Once the visitor has completed the screening, they will automatically be checked in
To ensure the visitor will be automatically checked out after a set duration, see the Auto Check-Out feature within the visitor settings

Set "Auto Check-In" to disabled
Once their table is ready, you can Check In the user manually via the Manage Visitors page, and call their name to notify them to come to the host station
Click Check Out to log the departure time

Alternatively, you can enable the Auto Check-Out feature to set how long after check in you'd like your users to be checked out
___
Patron Screening Experience
Your customers will see your printed sign and can use their smart phone to scan the QR code. The QR code will take them to the visitor information form, and then to the screening questionnaire. They will answer the questions and then click "Submit."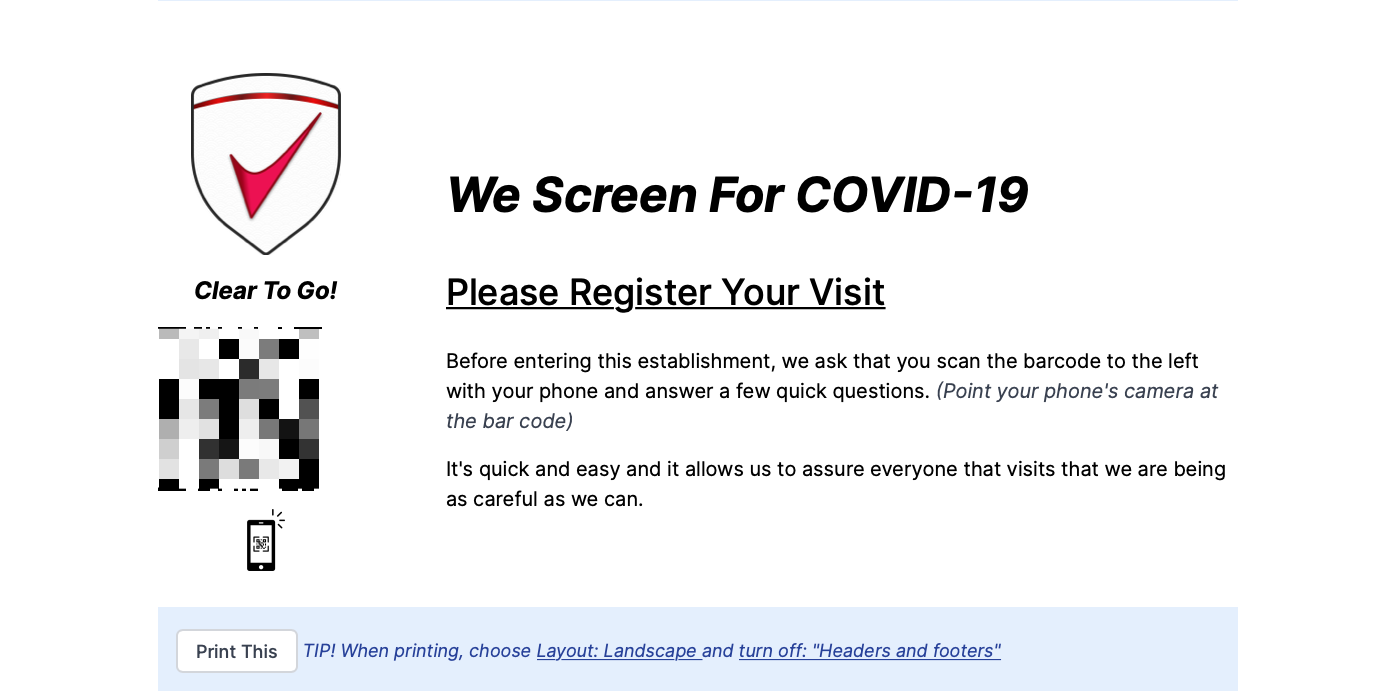 Note: If you need a different questionnaire for your users vs visitors, you can create a new questionnaire to reflect this via Your Name > Settings > Screening Questions.
What if someone doesn't have a smartphone?
From the Create a Sign page, you can click the link provided near the top of page. From there, you can fill out the form and questionnaire on their behalf, or have them do it on a tablet or computer with your Host/-ess. More information on unexpected visitors here.
___
Reports
Activity Log
Go to Your Name > Locations > Options > Activity Log. This report shows all logged activity for your establishment.
More on Activity Log
Unscreened Report
Go to Your Name > Locations > Options > Unscreened Report. This shows all employees that have not screened on a given date
More on Unscreened Report
Screenings Report
Go to Case Management > Screenings. This will show a log of all screenings completed for your organization.
All of the above reports can be exported by clicking the CSV option at the lower right hand corner of the page.
___
Questions? Email support@cleartogo.co